WTO, Can Blockchain revolutionize international trade?
This publication discusses the potential uses of Blockchain technology and the role it could play in international trade, providing an insight into the extent to which this technology could help with trade facilitation.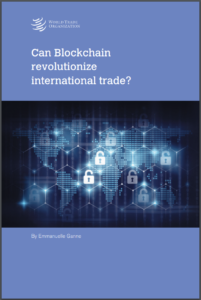 The report argues that the intrinsic characteristics of Blockchain make it a potentially interesting tool to help implement the WTO Trade Facilitation Agreement (TFA) and to facilitate business-to-government (B2G) and government-to-government (G2G) processes at the national level. For example, Blockchain and smart contracts could help administer border procedures and national single windows in a more efficient, transparent and secure manner, improving the
accuracy of trade data.
According to the report, Blockchain will only be able to work to its full potential if all aspects of cross-border trade transactions are digitised, from trade finance to customs, transportation and logistics, and finally if the semantics of international trade are aligned, such as what specific information is communicated by the data elements.