ITC, Supporting SMEs through trade facilitation reforms: Toolkit for policymakers 
International Trade Centre (ITC), Supporting SMEs through trade facilitation reforms: Toolkit for policymakers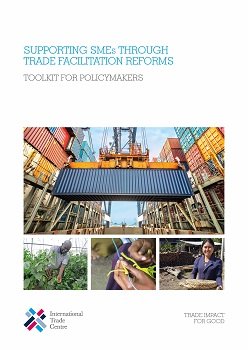 This report outlines the many challenges that small and medium-sized enterprises (SMEs) face in trading
internationally, and how trade facilitation can better help them. This, in turn, can produce far-reaching
economic benefits, given the central role that SMEs play in job creation, economic growth and diversification
in developing countries.
By examining the 19 provisions in the agreement that most help SMEs, hurt SMEs or help big business, the report offers insights that help national policymakers to boost the backbone of their own economies. Addressing reforms from the perspective of SMEs will spread benefits across the whole business community.