Getting Down to Business: Making the most of the WTO Trade Facilitation Agreement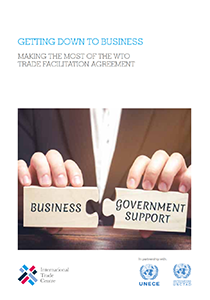 The World Trade Organization's Trade Facilitation Agreement is a unique opportunity for developing countries and least developed countries to simplify and modernize their trade and border procedures. An essential component of sustained and sustainable implementation of the WTO TFA is partnership and collaboration between policymakers and business.
This report assists policymakers and traders to understand the benefits, legal obligations and key factors for successful implementation of each measure in the Agreement. For each and every article of the Agreement – whether it is a binding obligation or a best-endeavour measure – this guide explains the legal nature of the measure in an easily and understandable manner, and sets out how the measure should be transposed into the national legal framework of WTO Members to take effect.