Daniel Dobos, particle physicist and co-founder of THE Port at CERN, explains how hackathons could create new tech to tackle trade barriers while creating the trust between governments and business essential to achieve real change.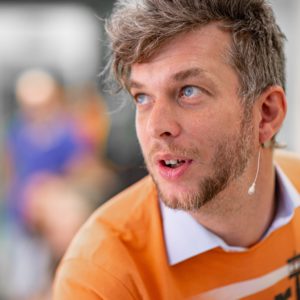 In 2014, 13 physicists and engineers at CERN, many of whom had been involved in the Large Hadron Collider (LHC), began to wonder if we could apply the same approach we had taken to innovation in fundamental science to solve other sorts of challenges, particularly humanitarian issues. Since then, our team at THE Port has been running hackathons looking at everything from waste management in refugee camps to how we can empower SMEs in the Pacific Islands to export.
Our curated hackathons are problem-solving workshops where newly assembled teams of software developers and other experts work on solving a specific problem in a very short time. We know cognitively diverse teams solve problems faster, so we bring together people with diverse backgrounds, experience, and expertise. By the end of the event they have created a functioning prototype. Participants are encouraged to think outside the box and try out new ideas. It is a safe, experimental space where we can fail fast many times until we succeed in innovating.
An example. Earlier this year Mussa Cande from Guinea Bissau came to us with a problem. Car ownership in his remote home village is vital. There are no local hospitals, and no public transport or ambulances that could transport someone in need of treatment many kilometres to the capital. Yet the process of registering your car is complex, slow and expensive. When you finally get your number plate you can't be sure that it is unique, nor confident that your insurance will be valid.
We worked with Mussa to bring together software engineers, behavioural experts, and communications specialists for a 60 hour-hackathon to find a solution for car owners in West Africa.
Technology is only part of the solution
Part of the solution is technological. As the clock ticked down, the team created a prototype online registration app, which allows vehicle owners to submit and track their application online. But we know that no piece of tech alone will ever solve a real human problem. The hardest part of change is usually not developing the tech itself, but persuading decision-makers and users that change is necessary and that technology can help achieve it. Adoption is about people – their trust and emotions determine the success or failure of your solution. This is what makes the difference. The most important part of the hackathon process in addressing Mussa's problem was the work to analyse the stakeholders we needed to support adoption of the technology and build collaborative relationships with them.
We have seen this time and time again. When we worked with the United Nations Human Rights Council, the hackathon team developed technology that can be used for reporting human rights abuses, but the most important aspect was to involve ambassadors and policy makers in the process to ensure they supported its adoption. Building a narrative about change is just as important as demonstrating that the technology can work.
How the hackathon approach could help facilitate trade in the developing world
Applying the hackathon approach to trade facilitation could help us develop new tech to tackle trade barriers, while creating the trust between governments and business essential to achieving real change.
Many generic technological solutions for facilitating trade already exist, such as e-payment systems, interoperable information systems, automated customs clearance systems, or real-time information sharing between border agencies. Yet these solutions aren't always feasible in developing countries. This is precisely where the opportunity for innovation lies.
The hackathon approach can build that essential trust between government agencies who run border processes and the businesses who will use them. It can encourage dialogue by developing and co-creating technological tools that ensure accountability, traceability, and transparency. That's how we can bring about real change.
The Global Alliance for Trade Facilitation (Alliance) is piloting an innovative way to design and deliver trade-related projects. The Alliance Tech Hackathon programme aims to disrupt trade facilitation by uniting governments, businesses, entrepreneurs and universities to deliver the next generation of trade reform. Contact us for more information.