Leila Aridi Afas, @TheTradeLady, Director of International Public Policy at Toyota Motor North America shares her perspective on how public-private partnerships can pave the path to simpler trade.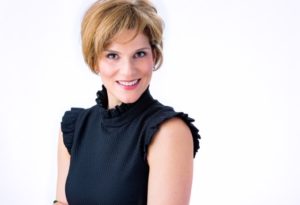 Across the globe, the backlash against globalisation, which is inextricably linked to trade, is growing. The challenges are too great for governments or business to tackle alone. Working together is the only way to successfully simplify, standardise and streamline the movement of goods so more people can realise the benefits of trade.
Why the Trade Facilitation Agreement matters
It was the first and only multilateral deal concluded in the World Trade Organization's (WTO) 23-year history. A total game changer for how goods and payments move across borders. After a decade of negotiations, and nearly half a decade of diplomatic drama, the WTO ratified the Trade Facilitation Agreement (TFA) on 22 February 2017.
Put simply, the TFA provides a playbook for customs modernisation – cutting the red tape buyers and sellers must navigate each time they strike a deal. And believe it or not, everyone can benefit from the TFA – governments, business and individuals. As noted by departing World Bank Group President Jim Yong Kim "trade is a critical component to ending poverty and boosting shared prosperity."
The public sector can benefit through improved revenue collection and increased foreign investment, which can generate higher tax revenue. Automation and electronic payments ensure revenue is collected expeditiously. Improved border flows increase intra-regional trade and promoting regional value chains.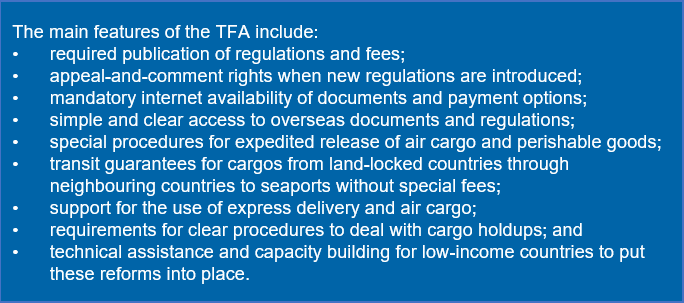 The private sector can benefit from clear, fair and transparent rules which provide predictability and reduce corruption and delays at the border. Quick and reliable release times are essential to just-in-time inventory management systems used by many manufacturers and for perishable products and express shipments.
People can benefit from new job opportunities and economic development derived from increased trade and investment. Trade facilitation can lower the cost of essential imported consumer goods, while simplified and standardised rules make it easier for individuals to trade, which could open new consumer markets for their goods.
Sound too good to be true? The TFA can bring these win-win-win scenarios to fruition, but only if it's implemented. Therein lies the rub and the prime opportunity for public-private partnerships.
What role can business play?
Countries must demonstrate the political will to implement TFA reforms, but business has a responsibility to come up with constructive ideas, help governments deliver and hold them to account.
Specific ways that businesses can get involved include:
Identifying and articulating their top priorities.  Single window sounds sexy (at least to those in trade compliance), but publication of customs regulations or introduction of e-payment systems may be more pressing.
Engage with National Trade Facilitation Committees (NTFC). A central element of the TFA is the obligation to establish an NTFC in each country to "facilitate domestic coordination and implementation of the provisions." In many countries trade facilitation committees were set up long before negotiations on the TFA were even started, but the TFA has catalysed the formation of many more. Although the TFA does not specifically state a role for the private sector in NTFCs, there is a common understanding that it is important. They represent a key forum in which business can stand up and play its part.
Helping with practical implementation. Does the government need companies to pilot new systems? Can we lend technical expertise or point to international best practice?
Requesting detailed plans for trade facilitation.  How will the government implement improvements?  What is the timing for each phase?  What metrics will be used to measure success?
Ratification of the TFA was the result of years of hard work, but implementation will be the toughest part. By working together, with business playing its part, we can turn the tide and ensure that international trade and globalisation are forces that can benefit all.