How can digitising the phytosanitary certification process help to enhance food security? Craig Fedchock, Advisor at the International Plant Protection Secretariat, explains.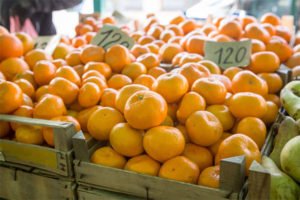 There has never been a time in documented human history without hunger. Someone, somewhere has always been in need of food. Tackling food insecurity has now been placed firmly on the global agenda through the United Nations Sustainable Development Goals (SDGs), with SDG two calling for improved nutrition and an end to hunger.
In today's interconnected world where most countries rely on trade to feed their populations, the ability to transport food across borders quickly, efficiently and safely is fundamental to tackling hunger. If we can improve the efficiency of border processes and cut delays, we can help ensure that nutritious food doesn't end up rotting at the border but reaches those who need it.
One way we can do that is through digitisation. Any trader looking to import or export plants or plant products including fruit, vegetables and seeds must apply for phytosanitary certification to guarantee their goods are free from pests and compliant with the plant health regulations of the importing country. This certification is crucial to protecting food safety, but it can also introduce cumbersome border procedures which can cause delays in the transit of food and create food waste.
Suppose a small farmer has been producing food for personal consumption and sale on the local market.  He has been exceptionally successful at growing peppers and now has enough excess production to begin exporting. He has found a buyer for his peppers in a neighbouring country and a shipper that can deliver the goods. The national plant protection organisation in the farmer's country issues the farmer with written certification – on paper – that any risks identified by the importing country have been addressed and the shipment is free of pests. The farmer is then responsible for the certificate's safekeeping and delivery to the customs and plant health authorities of the importing country.
Herein lies the problem – paper certificates are subject to many risks. They can be lost, damaged, forged or used fraudulently.  They can take several days to be issued in some cases. They can even contain typographical errors. In fact, one study found that non-compliant documents triggered a higher number of flower import rejections than actual plant health issues (Europhyt/Union Fleur, 2014).
All this adds up to delays and an extra administrative burden on traders, such as our pepper farmer, and border agencies. It increases the risk that perishable goods will get stuck at the border and wasted, and drives up costs which may then be passed on to consumers. For our pepper farmer, this may even mean cross-border trade is no longer cost-effective.
Thankfully, digitisation is beginning to address these issues. The International Plant Protection Convention (IPPC), with the support of IPPC member countries, has developed the ePhyto Solution to facilitate the electronic exchange of phytosanitary certificates (ePhytos). What began as a pilot project is now moving to a sustained operation. Five countries have already joined the initiative – the USA, Argentina, Chile, the Netherlands and New Zealand – and another 52 from the developing and developed world including Morocco (with the support of the Global Alliance for Trade Facilitation) and EU member states, are in the process of joining. On 18 June 2019, Ghana became the first developing country to go live with ePhyto using the web-based Generic National System or GeNS.  By digitising the process, we reduce the risk of loss, damage or fraud, ensure the certificate reaches those who need it efficiently and allow for any necessary changes to be made quickly. Ultimately we can cut the cost of trade in food for businesses and border agencies alike.
In our example, ePhyto can help ensure the peppers reach their market on time, supporting growth in the farmer's business and a supply of nutritious food to the buyer's country. Looking at the big picture, ePhyto is helping to drive progress towards SDGs one and two – increasing farmers' income by promoting agricultural trade and employment, protecting plant health, and ensuring that food gets to where it needs to be.
To learn more about the ePhyto Solution and how it works, visit www.ippc.int/en/ephyto/.