In February, two years after the landmark ratification of the World Trade Organization's Trade Facilitation Agreement, Kenya's Principal Secretary in the State Department of Trade, Dr. Chris Kiptoo, joined over 100 attendees from across government and business to discuss the country's progress on implementing the agreement and how the private sector can help.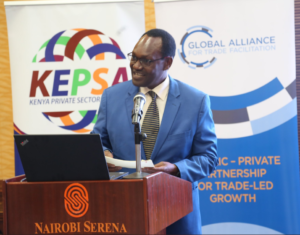 The event, organised by the Global Alliance for Trade Facilitation (the Alliance) and the Kenya Private Sector Alliance (KEPSA), underlined the importance of transparency and information-sharing between the government and business community and gave participants the opportunity to voice ideas for improving processes at the border.
The Alliance is currently working alongside the Kenya Revenue Authority (KRA), KEPSA and other public and private stakeholders in the country to deliver a trade facilitation project which will introduce risk-based pre-arrival processing at Kenya's border crossings.
Markus Wauschkuhn, Project Lead at the Alliance, said "The fact that over 100 participants took the time to participate in this public-private dialogue shows real appetite for a collaborative approach to solving issues at the border. We know that business has a lot to offer in terms of ideas, skills and expertise, and this event showed willingness on both sides to work together."
As part of its project work, the Alliance also organised a workshop in February in partnership with the Kenya Trade Network Agency, KenTrade, where 40 participants from 20 different government agencies looked at KenTrade's existing risk module, the Kenya TradeNet System, and discussed how this approach to risk management could be adopted by other agencies. Participants also heard from Dietmar Jost, international customs expert, about how best practice examples of risk management from around the globe are reducing the time and cost of trade for both government agencies and businesses.
Mr Amos Wangora, Chief Executive of Kentrade, said: "Kenya is making encouraging progress in the World Bank's Doing Business rankings and expanding our use of risk management can build on this. We have customised the Kenya TradeNet System for ten government agencies already, but it is important that we bring all agencies together to identify the capacity challenges faced by some and work together to address them so that risk management becomes part and parcel of all our operations. The Alliance is helping us to rally all agencies to take this approach which will be crucial to enriching our service delivery and ensuring Kenya complies with the World Trade Organization's Trade Facilitation Agreement."
The next step for the Alliance project will be to run a three-day risk management workshop for border agencies to support them in creating and reviewing their risk profiles.