Last week, 25 participants from 12 different ministries, border agencies and the private sector attended a full-day training session on how to use business process analysis as a tool to streamline and automate trade-related processes using international best practice.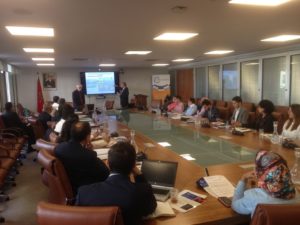 The full-day workshop was co-organised and hosted by the General Directorate of Trade at the Ministry of Industry, Investment, Trade and Digital Economy in Rabat.  The training was led by Tom Butterly and Frank Janssens, who will guide the work on the two components of the project.  Participants shared their own experiences with the business process analysis methodology and benefited consulted experts in the field about the project's implementation.
The event was organised by the Global Alliance for Trade Facilitation to support the implementation of a trade facilitation project in Morocco to optimise import and export processes in the agri-food sector, automating existing processes and improving data sharing.  Through the Alliance's unique model of public-private collaboration, governments and businesses are brought together as equal partners to identify trade facilitation issues such as customs delays and unnecessary red-tape at borders, and design and implement targeted reforms that deliver commercially quantifiable results.
Over the coming months, the public and private sectors will jointly analyse and design new processes to streamline and automate the weighing process in Morocco's main ports, and support the implementation of electronic phytosanitary certificates (ePhytos) for imports and exports.  Further information about the Alliance project can be found here.
To find out further information on how your business can get involved with the Alliance's work in Morocco, please email info@tradefacilitation.org.