The World Economic Forum on Latin America in São Paulo brought together more than 750 leaders from government, business and civil society from over 40 countries to drive forward an agenda of responsible leadership, innovation and economic progress for the region. With so many of the region's important stakeholders in one place, the Alliance saw an opportunity to bring together the public and private sectors for an interactive workshop on trade facilitation.
There is real momentum behind trade facilitation reform in Latin America. Yet while almost all Latin American countries have ratified the World Trade Organization's Trade Facilitation Agreement (TFA) and are embarking on promising trade facilitation reforms, trading in the region remains complex and costly.
The Alliance's session brought together 30 leaders from the public and private sectors to share experiences and best practice in trade facilitation reform. Participants included representatives from the governments of Brazil and Dominican Republic as well as business leaders from ICC Brazil, ICC Argentina, Camara Argentina de Comercio, Alliance partners, and a host of other companies from right across the region.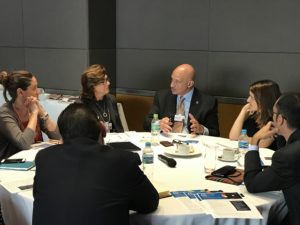 Participants agreed that the TFA and the current commitment to it from both governments and businesses present a unique opportunity to increase trade, investment and economic growth. Participants shared the key domestic and regional barriers to trade that they encounter and concrete examples of what they have put in place to address them, including new technologies and processes. Neighbouring governments spoke about how they might work together to develop mutual recognition of standards and joint inspections, and harmonise Single Window data to make regional trade simpler, faster and more cost effective. Businesses suggested where scaling up the use of technology, modern risk management tools and digitisation will reduce barriers to trade.
Alliance projects in Colombia served as examples of how the public and private sectors can work effectively together to deliver commercially meaningful reforms.
Trade facilitation reform remains a win-win for both the public and the private sectors. Perhaps most positive of all, the event created a forum for these sectors to share ideas openly, find common ground, and begin to work constructively together.
Find our more about what happened at the World Economic Forum on Latin America.