A delegation of Moroccan officials from the National Office for Food Safety (l'Office Nationale de Sécurité Sanitaire des produits Alimentaires – ONSSA) and the Ministry of Agriculture, Fisheries, Rural Development, Water and Forests (Ministère de l'agriculture, de la pêche maritime, du développement rurale et des eaux et forêts) travelled to the Netherlands as part of a project to digitise trade documents for Morocco's agri-food sector.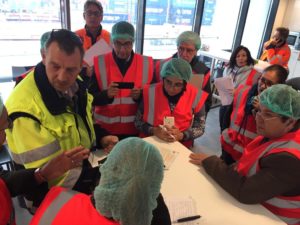 The Global Alliance for Trade Facilitation's project is supporting ONSSA to introduce electronic phytosanitary certificates, or 'ePhytos'. Traders of plants and plant-based products must obtain these certificates to show their shipments are free of pests and other risks.
The introduction of ePhytos will reduce the risk of certificates being lost, damaged or falsified while cutting delays for traders and ensuring a higher level of compliance. It will also allow Morocco to exchange data with other trading partners by joining the "ePhyto Hub", an initiative led by the Commission on Phytosanitary Measures (CPM), the governing body of the International Plant Protection Convention (IPPC). In the longer term, ePhyto can help to enhance food security.
The Moroccan delegation met with their counterparts from the Netherlands Food and Consumer Product Safety Authority to share their experiences of managing agri-food trade and ensure that the introduction of ePhyto in Morocco is informed by international best practice.
The EU is a major market for Moroccan fruits and vegetables. With Rotterdam being the busiest gateway to Europe, the Netherlands has worked hard to digitise certification systems and can serve as a source of inspiration and technical expertise. It recently introduced the E-CertNL application which allows Dutch exporters to pre-register their shipments of food using the app, and trading partners to grant permission electronically. Phytosanitary transport documents are no longer required, saving valuable hours in the process.
The knowledge exchange provided an opportunity for ONSSA's management team and specialists to hear how a similar agency is using ePhyto to promote safe and secure trade as well as gain valuable insights into how E-CertNL has been designed and implemented. Participants also met with two local companies, Kloosterboer Coolport B.V. and Van Oers United, both present in Morocco, to better understand why time-efficiency is so important for perishable goods and experiences of agri-food companies in using the systems. The knowledge and technical expertise they gathered will help Moroccan officials implement ePhyto in the most effective and business-friendly way possible.
Find out more about our project in Morocco