The streamlining of processes governing imports of routine vaccines and rapid test kits (RTKs) to Mozambique has moved a significant step closer following the official handover of essential IT equipment to support the transformation of border clearing processes.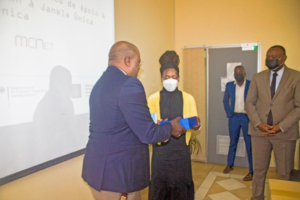 The Global Alliance for Trade Facilitation is partnering with UNICEF to support the automation of imports of routine vaccines and associated medical products. The Alliance is undertaking a similar project to help expedite shipments of diagnostic RTKs for HIV/AIDS and malaria. Both initiatives support the Ministry of Health and could go live as early as next month, less than a year after launching in May 2021.
The National Medicines Regulatory Authority (ANARME) and Central Medical Stores (CMAM), the government agency tasked with importing and distributing medicines for the public health system, accepted the equipment at a ceremony hosted by the Ministry of Health on March 10. Participants included representatives from the government, Alliance donor USAID, UNICEF, and the private sector.
"Aware of the lengthy manual processing of the paperwork, we are convinced that automating pre-shipment authorisations in an electronic system will bring significant benefits to the health sector," said Abu Jone, Deputy Director of CMAM. "This project will greatly reduce the waiting time for clearing products, thus making the import process more efficient."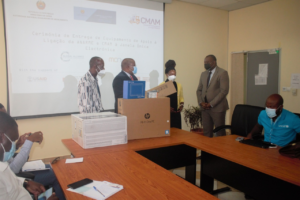 The new IT equipment will help government agencies connect with the country's Single Window, allowing importers to electronically submit the necessary information for customs clearance, eliminating the duplication and delays created by paper-based systems.
Reforming approval processes for essential medical products will allow faster importation, improving public health by making essential healthcare products more easily available. This will be particularly beneficial for women, who are disproportionately affected by HIV/AIDS and malaria.
"The Alliance is excited to have reached this key milestone in our project, which will facilitate the smooth and rapid movement of vital medicines and supplies by digitalising manual border processes," said Chris Holden, Development Manager for the Alliance. "These projects will help support the government's efforts to boost public health and ensure that all Mozambicans, and especially children, are better protected against common diseases."
Both projects contribute to Mozambique implementing its commitments under the World Trade Organization's Trade Facilitation Agreement, which requires countries to expedite the movement, release, and clearance of goods.