Denmark has become the latest donor government of the Global Alliance for Trade Facilitation, a public-private initiative aimed at making cross-border trade simpler, faster and more cost-effective.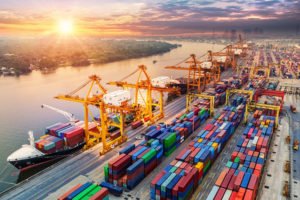 The USD 1.8M pledge per year from 2018-20 is part of the government's Aid for Trade programme and will help to deliver its The World 2030 strategy to support inclusive, sustainable growth and development.
The Alliance brings together governments and businesses in developing and least developed countries as equal partners to identify opportunities to improve trade facilitation, such as reducing delays at borders and removing unnecessary red tape, and to implement targeted reforms. It is currently delivering nine projects across Africa, Asia and Latin America, each of which aims to create an environment where businesses can trade more easily with predictable procedures, streamlined regulation and greater automation. All the Alliance's projects help governments implement the World Trade Organization's Trade Facilitation Agreement.
By joining the Alliance as a donor – alongside the USA, Canada, the UK, Australia and Germany – Denmark aims to support micro, small and medium-sized enterprises (MSMEs) in developing and least developed countries to become more competitive, trade across borders and connect with global and regional value chains. Denmark will sit on the Alliance's steering group alongside several global businesses, including Maersk.
Carl Christian Hasselbach, Minister Counsellor at the Permanent Mission of Denmark to the United Nations Office in Geneva, said: "Through the Alliance, Denmark will support developing countries to increase trade and better integrate into the global economy which we know can contribute to a host of benefits including job creation and poverty reduction.
"Our participation in the Alliance is taking our collaboration with the private sector on international development to the next level. This is the first time that the Danish government is sitting on the same board of a development initiative as a major Danish company, Maersk. There is a clear case for more Danish businesses to become involved in trade facilitation – not only can it make doing business easier, but it is also an opportunity to lead the way as responsible companies supporting social and economic development throughout the globe."
Representatives from the Danish Ministry of Foreign Affairs, the Alliance and a host of Danish companies came together today in an event to discuss the importance of trade facilitation for sustainable economic growth. The event, hosted by the International Chamber of Commerce Denmark, Maersk and Danske Rederier highlighted Denmark's role in the Alliance and opportunities for businesses to get involved in the Alliance's projects.
The Alliance is already working with some of the world's largest retailers, manufacturers, logistics and technology companies who move or help to move goods across the globe every day.
Philippe Isler, the Alliance's Director, said: "While it is local companies on the ground who are key partners working with their governments to design and steer our projects, it is often large, multinational businesses who possess the resources and expertise that can ensure our projects are based on international best practice. Companies who we work with contribute resources to support our projects, which may mean providing experts, sharing data and metrics or delivering training; connect us with their contacts in our project-countries, whether their subsidiaries, clients or companies in their supply chains; and act as ambassadors advocating for the role of business in trade facilitation reform.
"Maersk has been involved in the Alliance since its inception and has already played a crucial role in supporting our work. This is an exciting opportunity for more Danish businesses to play a part, helping to improve cross-border trade at the same time as driving progress in sustainable development and poverty reduction."
Allan Jorgensen, Lead Sustainability Adviser, Social Impact, at A.P.Moller-Maersk, said: "The Alliance gives us a practical way we can use our skills and expertise to ensure that global trade benefits all. As well as sitting on the steering group alongside donor governments, our data experts have helped the Alliance identify the biggest challenges that businesses face at borders and measure the impact of projects through our own unique methodology. Our local teams have been able to support projects in Morocco, Sri Lanka and Vietnam."