Despite ongoing disruptions and travel restrictions created by the Covid-19 pandemic, the Global Alliance for Trade Facilitation continues to make meaningful progress towards making intra-regional trade simpler, faster, and more cost-effective among 11 Latin American and Caribbean countries.
The Alliance has so far helped coordinate four joint-site validations with customs officials from these countries since the project began, including two in Paraguay and Guatemala in the last six months alone. All told, progress on the joint-site validations is nearly two-thirds complete.
During these joint-site validations, customs officials concluded that their Authorised Economic Operator (AEO) programmes were fully compatible with those operating in Paraguay and Guatemala, paving the way for smoother cross-border trade in the region. Argentina, Bolivia, Brazil, Chile, Colombia, Costa Rica, the Dominican Republic, Peru, and Uruguay are the other countries involved in the initiative.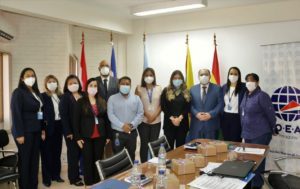 Joint-site validations enable customs officials to determine compatibility between AEO programmes in their respective countries. Once confirmed, this paves the way for Mutual Recognition Agreements, giving priority treatment to AEO-certified companies at border controls.
The Alliance's project is helping to negotiate this innovative regional arrangement in line with the World Customs Organization (WCO) SAFE Framework of Standards, which enhances security and facilitation in global trade. AEO programmes, which already exist in all 11 countries, help governments implement the World Trade Organization's Trade Facilitation Agreement, which aims to make trade simpler, faster, and more cost-effective.
Achieving mutual recognition status with relevant trading partners is a key objective of an AEO programme as it helps amplify and extend those benefits to additional countries. Four agreements have been signed since the Alliance began this effort in 2019, including between:
Peru and Guatemala
Guatemala and the Dominican Republic
Brazil and Colombia
Uruguay and Colombia.
Such progress is an encouraging sign that the initiative is gaining momentum, despite the inherent difficulties in negotiating and finalising such pacts during the Covid-19 pandemic.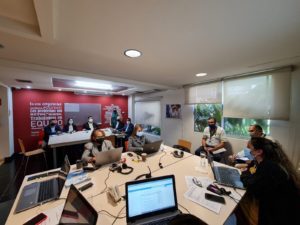 Once the regional arrangement is fully implemented, AEO-certified companies will enjoy lower costs, while customs administrations benefit from enhanced security and management, freeing up time and resources to focus on high-risk consignments.
On average, for AEO companies in the participating countries, the initiative is expected to result in at least a:
20% reduction in physical inspections
15% reduction in documentary inspections
15% reduction in customs clearance time for imports
10% reduction in clearance costs for imports.
"We greatly appreciate the governments' willingness to participate in joint-site validation, despite the mobility restrictions caused by the pandemic. It demonstrates their commitment to the project and the importance of implementing trade facilitation reform, particularly in times of crisis," said Aurelio García, who is leading the work on behalf of the Alliance.